Pitch up and Relax: Camping made easy
Hideaway Campsite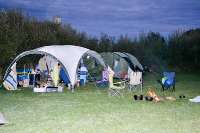 Spring Meadow Farm Campsite is hidden away behind tall willows, which makes it a cosy haven for campers. The level 1 acre field is ideal for young families, well away from roads and only a short distance from the toilet and shower block, where you will also find plenty of hot water, a fridge, washing up sink, washing machine and hair dryer.
NB we do not have hook-ups!
Only 5 Pitches
Only 5 pitches are in use at any one time. Each pitch is 10 metres wide. Camping gear, kitchen tents, awnings and gazebos must be pitched within the 10 metre spacing.
If you come with friends we will do our best to site you on adjacent pitches.
Picnic Tables
Every pitch has its own picnic table which you can place where it suits, either in a gazebo or under a tarp or just leave it al fresco depending on whether you want to use it as a meal table, a work table or somewhere for the kids to do stuff.
Campfire Camping
Lighting Campfires, cooking and Stargazing.
You can light a campfire in the evenings and enjoy its warmth and glow or you can hone your campfire cooking skills. Campers have roasted a chicken on a spit to perfection and stews are frequently made in dutch ovens so if you have a dutch oven or any heavy cast iron pots, do bring them with you.
You can also bring your own wood but logs and kindling are on sale at near cost price per net.
Recycling your waste
Colour coded bins.
We've made it as easy as possible for you to recycle all of your waste. There are colour coded bins clearly labelled for glass, metal, clean plastic, cardboard, food waste and - as a last resort - landfill.
We have provided the facilities and we hope you will do your bit for the environment and recycle conscientiously.