Pitch Prices
£22 per night for 2 adults + tent or campervan
£5.50 per night for children 5 - 15yrs
£11 per night for 16yrs+
There is no extra charge for awnings, pup tents and gazebos but they must fit alongside your tent on a 10m x 10m pitch.
We allow for a maximum of 2 adults per pitch with their children. This limits numbers on site to a maximum of around 20 at any one time and avoids overloading the facilities ensuring everyone's enjoyment of the campsite.
Greener Camping Club annual membership £10
Yurt Prices
Our yurt is 6.6m in diameter (approx 22') and is furnished to accommodate 2 adults + 3children
Peak Rate: £595 per week during Whitsun and the school summer holidays exclusive of bedding.
Duvets, pillows, bed linen and towels £12 per person extra.
Off Peak Rate: £70 per night off peak (3 nights minimum stay)
Duvets, pillows, bed linen and towels £12 per person extra
Greener Camping Club annual membership £10
Book Online
We are now taking bookings so if you think you would like to stay at Spring Meadow Farm and explore Pembrokeshire then here's how to book your camping pitch.
Alternatively email us at This email address is being protected from spambots. You need JavaScript enabled to view it. with the following details:
Please let us know the dates of your camping holiday.
No. of adults, No. of children + ages.
Your camping accommodation: tent, campervan, or trailer tent.
We will send you a booking form.
Bookings
We only accept bookings for full weeks (Sat – Sat) during the summer holidays (mid-July to the end of August).
We accept short stay bookings at all other times.
Arrival and departure times
Please arrive after 3pm on your day of arrival and leave by 12 mid-day on the last day of your holiday. Respecting these times allows us to cut the camp site if needed and carry out other essential maintenance.
Covid-19 Booking and Payment
A deposit of 30% to secure your booking
Balance due 30 days before your holiday
No refunds but flexibility to move bookings until the end of 2021 season in the event of Coronavirus restrictions.
This policy supersedes any other policies
Social Distancing Measures
We are a small site with only 5 pitches and a single Yurt sharing the same facilities and we will be requesting cooperation from our campers to keep everyone safe. Our pitches are already spaced at 10 metres distance from each other and have installed extra hand washing facilities and spacing markers outside the toilet block. We will also undertake to deep clean in communal areas all surfaces that lend themselves to deep cleaning (NB yurt trellis and lining does not fall into this category).
Greener Camping Club Site
Spring Meadow Farm Campsite is a Greener Camping Club members only site.
Your £10 annual membership fee will be included in your pitch fees. If already a member - please let us have your membership details and we will refund you your fee.
The Greener Camping Club inspects our site annually and issues us with our licence to operate as campsite. By becoming a member you will gain access to other sites in the group. To find out more about the Greener Camping Club visit greenercamping.org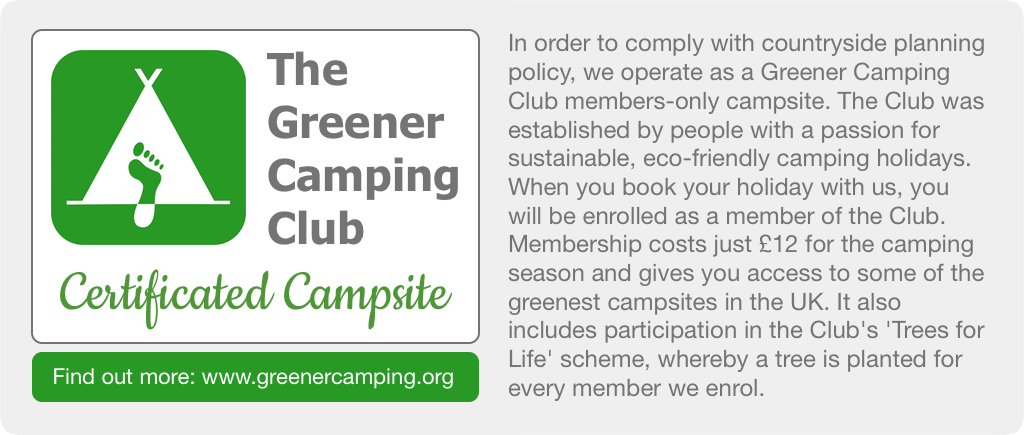 Site Guidelines
This is a peaceful campsite, we do not allow radios or other sound systems to be played on site.
Noisy campers who persistently disturb other guests will be asked politely to leave without refund.
Campers are required to be back on site by 10.30pm.
We do not allow vehicles to be driven on site except on arrival for unloading and when packing up to leave. Campers park their vehicles on the yard (a stone's throw from the campsite) after setting up their tents until it is time to pack up again. This helps to keep the site in good condition and the feeling of being in the countryside and away from it all.
Please be aware that this is a working farm and adults are responsible for keeping children away from farm machinery and safely on the campsite.
We don't take dogs.
Visitors are not allowed on site.
Terms and Conditions
The owners of Spring Meadow Farm accept no liability at all for loss or damage to any vehicle or other property belonging to any person using the campsite or for any personal injuries sustained through camping or campfires.
If you cancel your booking for any reason your Greener Camping Club fee will not be refunded and you will remain members.
COVID - 19
The following condition applies if we are not able to accommodate your booking due to COVID-19 'lockdown' restrictions, or if you are not able to attend due to restrictions in other countries or because you need to self-isolate: Any payments you have made (whether deposit or full balance) are not refundable, although they can be used instead towards a new booking later in the 2021 season.
Force Majeure
Spring Meadow Farm Campsite are not liable for refunds or expenses you incur in the event we are prevented from fulfilling your Booking as a result of circumstances beyond our control. Such circumstances shall include (but will not be limited to) war, terrorism, serious crime, industrial action, flooding, natural disaster, epidemics or such similar events ("Force Majeure"). We recommend that you have adequate holiday insurance in place to cover this.